Due to the amount of time spent in medical school and residency, doctors are very passionate about their careers. It's very challenging for them to imagine leaving the profession they love. Being from a family of medical and military professionals, I understand the long hours doctor's work to save lives and comfort their patients. They like to maintain their current standard of living in retirement.
Physicians typically retire in their 60s or 70s, according to the American Medical Association (AMA). However, if you plan your retirement properly, you may be able to retire as a physician earlier.
It's a growing concern that many medical professionals, engineers, business owners, military solders, and farmers have been told – "Keep your investment and life insurance policies separate. Never combine." I don't know who misinformed them. The benefit of combining life insurance and retirement investments is that you can retire tax-free and your loved ones will be protected. 
Life insurance is generally thought of as a way to provide financial protection for your dependents after your death. In other words, most people perceive it as a death benefit. BUT some life insurance policies combine a death benefit with investment components. Index Universal Life (IUL) insurance is one of these policies which have a cash accumulation component similar to an Indexed Annuity but here you pay not tax on gain. Literally, you can call it an IUL investment plan and it will be the future 401(k) retirement plan.  ("Why IUL Investment Might Be New 401(k)?" Dr Edward Burns Jr, Forbes Council Member, Oct 3, 2022,07:15am EDT  https://www.forbes.com/sites/forbesbusinessdevelopmentcouncil/2022/10/03/why-indexed-universal-life-insurance-might-be-new-401k/?sh=1a585a5b60c9). 
The investment component of this plan allows the policy owner to place funds in an underlying market index providing growth potential for the cash account within the IUL policy. Principal guarantees include protection (Graph 1(b)) of accumulated premiums and growth from the year before the market declined (Graph 1(a)). Some of the most common indexes that are used within IUL policy include the S&P 500, S&P MidCap 400, NASDAQ 100, DJIA, Russell 200, Barclays Trailblazer Sector 5, Fixed Rate, and EURO. Funds can be allocated in any combination by the policy owner.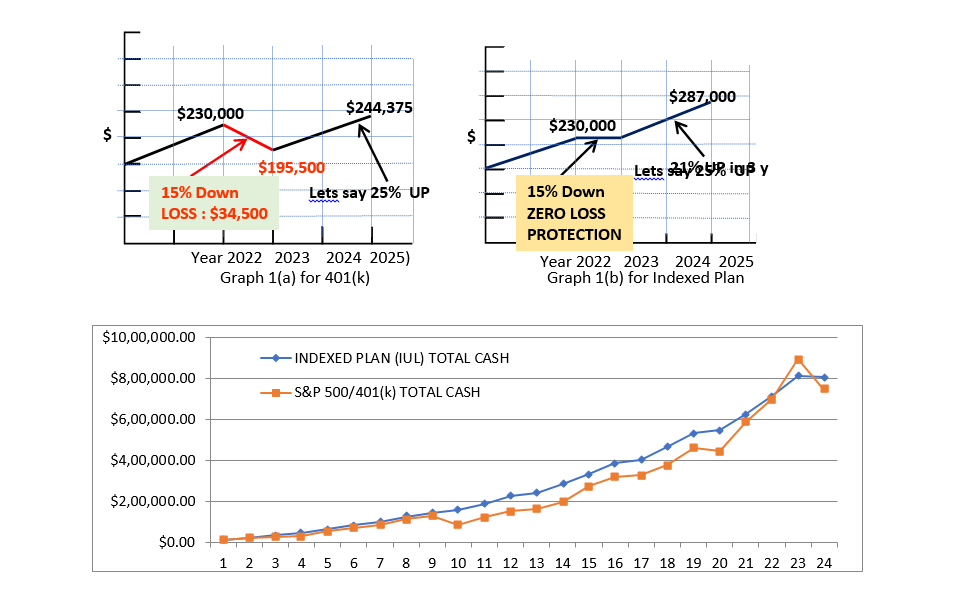 Since investment companies like Edward Jones, J.P. Morgan, Fidelity Investment, and Charles Schwab are not in the life insurance business, they wouldn't talk about IUL investment plans. Comparatively, insurance companies are not very good at advertising their products, and therefore, the majority of people believe that investment firms deal with investment and retirement plans, while insurance firms deal with insurance plans, but they don't realize that insurance firms offer both plans: IUL Investment and Life Insurance. For example, Fred Myer and Wal-Mart offer retail products as well as groceries. That is what happens in the life insurance industry: they sell you the most secure investment plan with life insurance coverage as you see in Graph 1(b). By investing in an IUL, you can use your savings for your retirement while keeping your family protected and yourself safe. 
| | | | | | | |
| --- | --- | --- | --- | --- | --- | --- |
| Retirement Plan | Age | Monthly Premium | Income Tax Bracket | Retirement after Tax | Death Benefit | Medical |
| 401(k) | 42 Male | $1,500 | 22% | About $66,300 | None | None |
| IUL Investment | 42 Male | $972 | 0% | About $66,917 | Yes | Yes |
For appointment Booking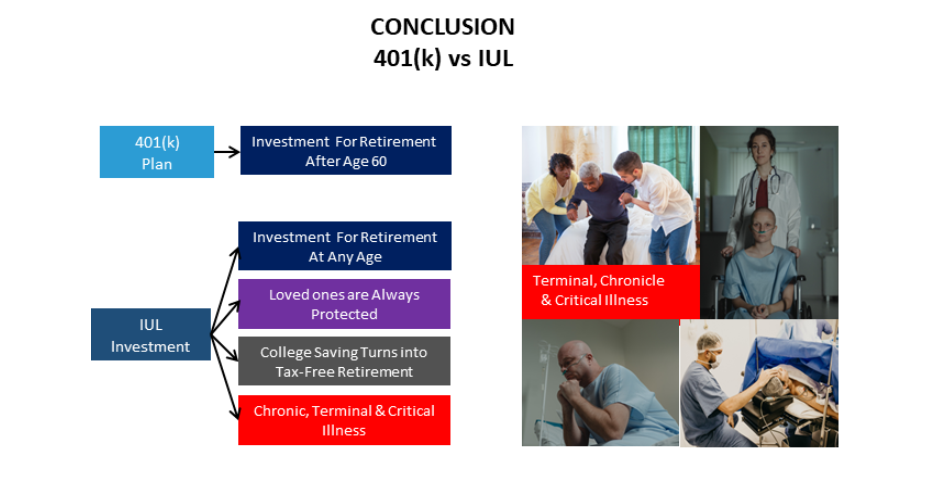 Leave A Comment