Whole Life Insurance
As the name suggests, Whole Life Insurance covers the policyholder for the duration of their entire life. Hence, as long as you continue to pay your premiums on time, your policy will remain valid. Unlike Term Life Insurance, it will not expire. There are no specific terms for Whole Life Insurance. No wonder WLI policy is among the most sought-after permanent life insurance policies.
The Whole Life Insurance policy combines death benefits and a savings plan. The saving component of this policy is also referred to as Cash Value. Hence the premiums go towards maintaining the death benefits while the saving component helps build cash value tax-deferred. The tax-deferred cash value can be further invested or used if needed while you are alive. You can borrow or withdraw that money for medical expenses and a child's education.
Apart from this, here are some other features that make Whole Life Insurance an appealing option:
It has fixed premiums. Rest assured, it will not increase regardless of the market volatility.
It guarantees death benefits as long as you make premium payments.
This means that once you purchase this policy, you can continue paying the fixed amount in premium without worrying about increased premiums which can be difficult to pay when you get older. A fixed premium brings stability into the equation and takes away the element of uncertainty. Moreover, as the death benefit is guaranteed, your loved ones will know how much to expect in terms of life insurance benefits after your death.
How cash value builds up?
There are two aspects: Guaranteed rate of return and Non-guaranteed rate of return. The guaranteed rate of return doesn't change but non-guaranteed rate of return added on the top of guaranteed rate. For example: Your policy is getting 3% guaranteed rate of return and the dividend is 1%. This makes 4% rate of return. Non-guaranteed (dividend) helps the cash value to grow tax-deferred.
Moreover, the Paid-Up Additions (PUA) Rider is one of the most important components which must be properly added to maximizing cash-value within whole life insurance. It's a vital component when structuring an infinite Banking policy. The PUA purchases "Paid-Up Insurance which is fully paid and requires no new premiums. The PUA Rider creates immediate cash-value in the whole life insurance policy.
10 pay and 20 pay whole life insurance policies build-up cash value faster. 10 pay or 20 pay, means the policy is paid up in 10 or 20 years. You can access your cash in many ways, such as loan, distributions, and take our dividends as cash. Most of the people or businesses take money through loan because there is no tax on loan. If the loan is not paid-off at the time of your death, it will be deducted from the death benefits.
Many wealthy people, real estate investors, and business owners use this policy. Wealthy people use this policy as a tool in their estate planning to avoid certain taxes and pass on a tax-free inheritance. Business owners and real estate investors use it to finance their business and real estate.
Get in touch with our insurance agent to learn more about Whole Life Insurance policy.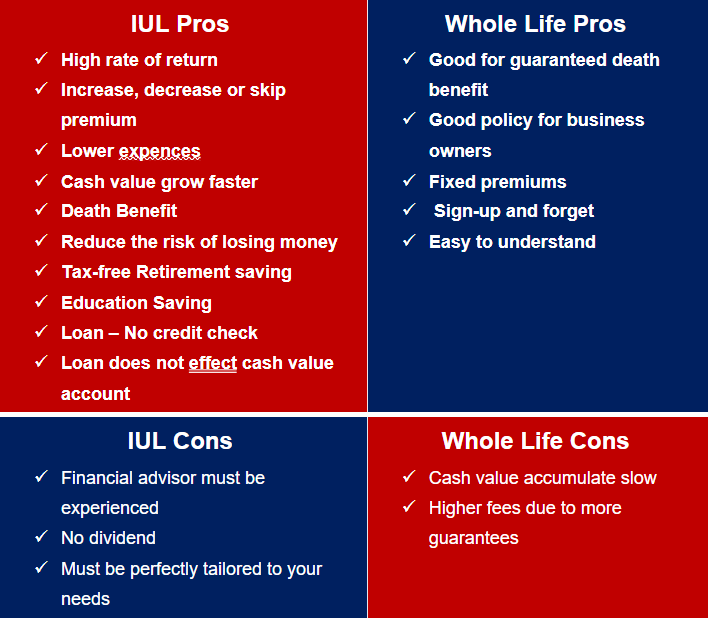 Whole Life Insurance

 

 

Index Universal Life Insurance

 

 

Permanent life insurance

 

Yes

 

Yes

 

Which policy is best for you?

 

Good for guaranteed permanent death benefit for beneficiary after your death. 

 

Good for long-term goals to grow cash value account, tax-free withdrawal benefit to supplement retirement income. 

 

Tax-Free Retirement

 

Yes

 

Yes

 

Can you earn money?

 

The policy accumulates cash based on dividends.

 

Even though the track record of dividend payments is over 100 years but there is no guaranteed.  

Interest is credited to the policy based on an index, such as S&P 500 & Nasdaq 100.

 

Interest compound monthly.  This makes cash value grow faster 

What is the return on investment?

 

Average return is 3-5%

 

The policy is good for business owners.  

The cash value accumulation in whole life is much slower.  

The rate of return is relatively stable, although not guaranteed. It may take several years to build up much cash value in the policy.  

It has Floor value (0 -2%) and Cap value 9-13%. More over some has no cap. 

 

If the S&P index is negative like in 2008 you will get 0 to 0.25%. This mean, you will never lose money.  

If S&P return is 14% and your Cap is 11%, then you will receive 11% 

Warren Buffett's Two Rules: "Rule No. 1: Never lose money. Rule No. 2: Never forget rule No.1"  

Dividend 

 

Yes, Re-invest to buy more policy or pay premium

 

No, Invested in S&P 500 and Nasdaq 100. It's like an index fund or an EFT

 

Premium

 

Fixed Premium. Hefty Premium. 

 

Flexible – increase, decrease or skip premium

 

Death Benefit

 

Fixed guaranteed death benefit c

 

There is guaranteed death benefit

 

Loan

 

Borrow from cash value account – Tax-free

 

Borrow from cash value account – Tax-free

 

Terminal Illness, Critical Illness, & Chronic Illness coverage 

 

You have to pay more for adding riders (Terminal illness, Chronic illness, and Critical illness)  to the policy

 

It comes with terminal Illness, Critical Illness, and Chronic Illness coverage. 

 

What is your long term goal?

 

Guaranteed death benefit. 

 

Good to grow cash value account, tax-free withdrawal, retirement income

 

Medical Exam

 

Easy to get if you are old or have health problem

 

No medical exam required

 

How cash value accumulates?

 

The return on cash value is guaranteed by the insurance company because the rate of return in predictable. 

 

The return on cash value is based on the index market, such as S&P 500. Return is higher than the whole life insurance.